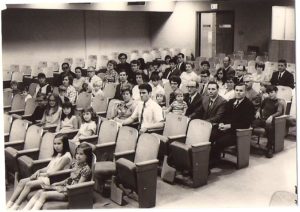 University Mennonite Church was founded on June 19, 1963. Prior to the founding of the church, Mennonite students and faculty gathered for fellowship and worship as early as 1959. The church met in homes and on-campus prior to purchasing the former State College Friends Meetinghouse at 318 S. Atherton Street in 1980. We moved to our current church building on 1606 Norma street on June 24, 2007.
Throughout history we have tried to remain faithful to the teachings of Jesus and our Anabaptist and Mennonite heritage.
Below are some major milestone's in the church's history and several historical documents that have been compiled over the years.
Significant Milestones
1959 a group of Mennonite students and faculty at Penn State begin meeting informally for fellowship and worship
April 21, 1963 – Meeting held in the home of LaMarr and Nel Kopp to discuss establishing a formal Mennonite church
June 16, 1963 – Twelve original members sign a formal Charter, officially founding University Mennonite Church in State College
September 1, 1966 – First ordained minister, Victor Stoltzfus called to be part-time pastor
September 1978 – Harold and Ruthie Yoder called as part-time co-pastors
October 12, 1980 – Meetinghouse at 318 S. Atherton dedicated as first physical church building (prior to that the church met in homes or on-campus in the Chambers building)
September 1, 1989 – Edwin and Catherine Rempel called as co-pastors (first full-time paid leaders)
Fall 1997 – David Miller called as pastor
June 24, 2007 – Church moves to building at 1606 Norma Street
September 2010 – Marv Friesen called as pastor
October 2014 – Ben Wideman called as student pastor for 3rd Way Collective student ministry
September 2018 – Kate Heinzel called as lead pastor
Historical Document Links
Original Charter (JPG image) – signed June 16, 1963
Building Dedication UMC History Speech October 12 1980 – Truman Hershberger
40th Anniversary UMC History Speech May 17 2003 – Willard Martin
50th Anniversary UMC History Speech October 19 2013 – Joel Weidner
Audio Recording of our 50th Anniversary Celebration